Whether we're talking food or fashion trends, I notoriously show up way late to the party. Don't know why it takes me so long, but from avocado toast to matcha smoothies to savory oatmeal– I'm late. I observe these types of recipes floating around the interweb forever, finally give in to trying them and then EVERY. SINGLE. TIME., wish I wouldn't have waited so long. And poke bowls are no exception. Matter of fact, I need to give a big shoutout to my soul sister, who totally keeps me in check when it comes to all things "trendy"- she makes sure I don't leave the house lookin' like a fool (seriously- she's saved me a few times) and also makes sure I say "poke" with 2 syllables and not 1… in case you need help too, it's pronounced "Pok-keh". Now that I've established just a handful of things that make me a huge goober, let's get on to the recipe!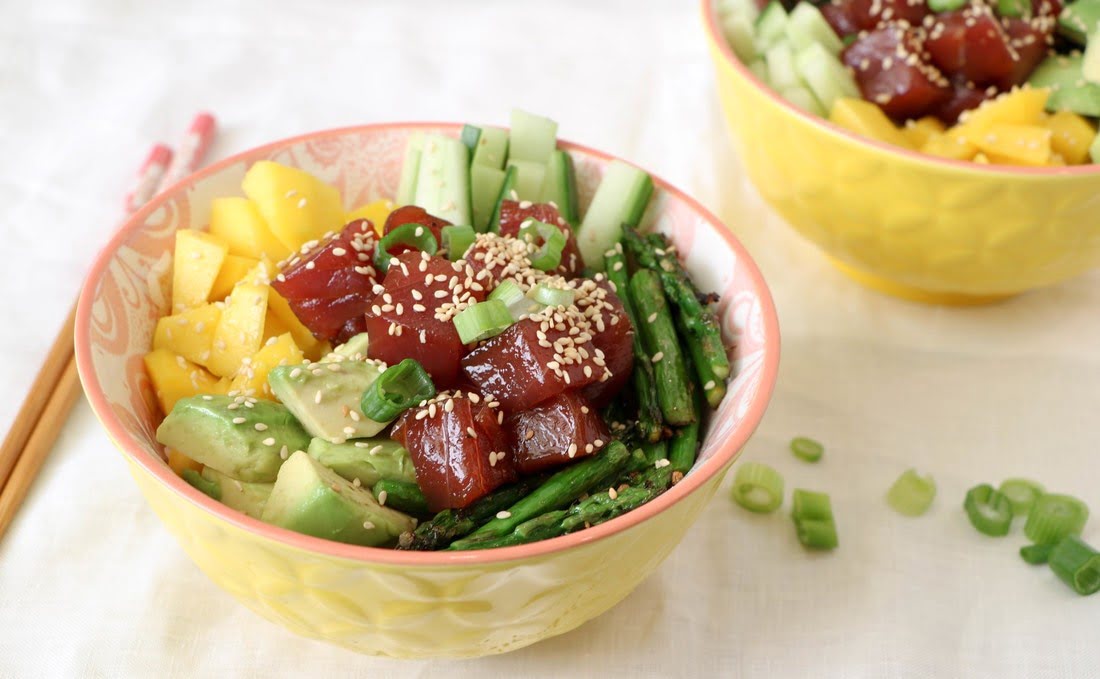 This bowl seriously tastes just as good as it looks- maybe even better. If you love poke or heck, if you love ahi or sushi- this is the bowl for you. And you'll be thrilled to know, it's super easy to make.
If you can chop veggies, you can make this poke. It's truly as simple as slicing cucumbers, dicing mango and avocado and making a decision between raw or slightly cooked asparagus. I opted to sauté the asparagus in some avocado oil and minced garlic for a few minutes to soften it up a bit, and infuse some nice flavor into the bowl.
Let's talk about that tuna because when I was teasing this recipe on my Instagram, folks were asking where I got the tuna. It is a sushi grade tuna, which is available at most grocery stores with a seafood counter (and sushi grade tuna is a must for a recipe like this). I opted for fresh, not frozen, and ask the nice gentleman at the seafood counter if he wouldn't mind cubing it for me.
KISS Tip: GUYS, y'all should ask too. Most folks are usually more than accommodating and this saves some valuable time in the kitchen. Well- ehh, it probably saved me 5 minutes, but that's still valuable time.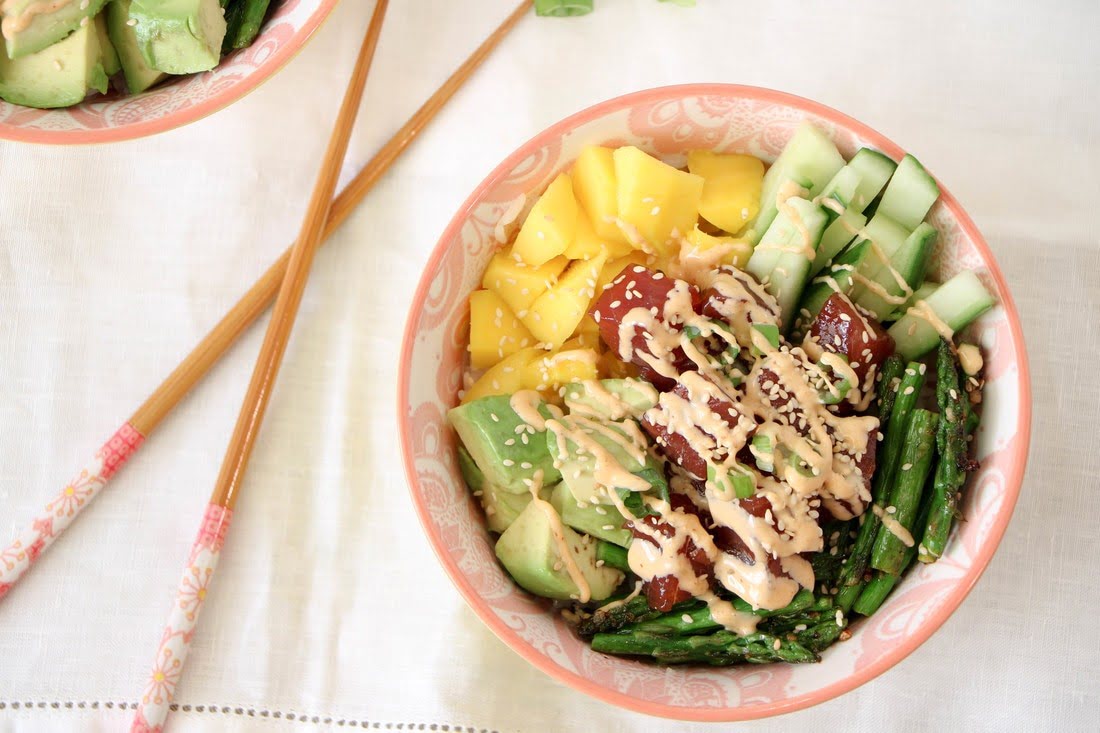 KISS Tip: 
Optimal poke has warm rice and cold fish, so make sure you heat your rice just a few minutes before assembling your bowls!
One last fun extra for this poke is drizzling a little bit of spicy mayo on top. Spicy mayo = mayo (I used avocado mayo) + Sriracha. It's THAT easy. So I hope y'all don't wait as long as I did to try this bowl because whether it stays trendy or not, it's going to stay a clutch recipe in my house!
Print Recipe
Ahi Tuna Mango Poke Bowls
Ingredients
1/2

lb.

sushi grade ahi tuna

1

Tbsp

Tamari, gluten-free soy or regular soy

1/2

Tbsp

course ground black pepper 

1

small

avocado

1/2

cup

chopped mango

1/2

seedless

cucumber, cut into match sticks

8

asparagus stalks, sliced into one-inch pieces

1/2

Tbsp

avocado oil

1/2

tsp

minced garlic

1

package

microwaveable white sushi rice

(about 1.5 – 2 cups total)

2

tsp

toasted sesame seeds

1

Tbsp

chopped scallions

Spicy Mayo: 2 Tbsp avocado mayo + 1 tsp Srirarcha
Instructions
Cube tuna or kindly ask seafood guy [or lady] to do it- see above KISS Tip.  Combine Tamari and black pepper and pour over tuna in medium glass bowl Stir and make sure tuna is evenly coated with marinade.. Marinate in fridge for about 30 minutes.

While tuna is marinating, chop mango, cucumber, avocado and asparagus.

Add avocado oil to a small skillet and sauté asparagus and garlic for 3-4 minutes until slightly softened.

Heat rice per package instructions and prepare spicy mayo.

Build bowls by dividing heated rice on bottom of each bowl. Evenly divide cucumber, avocado, mango, asparagus and place in bowl on top of rice. Spoon marinated tuna in the middle and add chives, toasted sesame seeds and spicy mayo drizzle, if desired. Enjoy and make often :).