---
Disclosure: I LOVE Natural Delights Medjool Dates, but this is NOT a sponsored post. I was not paid for my time and all opinions are my own.
---
So did anyone else just realize it's AUGUST? It's officially back-to-school time with a countdown of a few days to a only a week for some kiddos. It's time to start thinking about creative lunches that are tasty and balanced. Many of the parents I work with ask me to explain what balanced really means. If we think back to our food groups; therein lies the answer- pick at least one fruit, veggie, whole grain and protein- plus a healthy hydration option. I've created this handy dandy School Lunch Builder sheet that can even help your kids get involved.
I don't know about you, but the turkey n cheese and good ol PB & J can get old when packing lunches. Sure, pack them a couple times a week, but packing something fun, new and tasty makes the whole family happy. *Insert Banana Date Nut Butter Rollups*
Bananas + Medjool Dates + Nut Butter is this crazy good combo that kinda makes me count down the hours til it's time to eat again. PLUS the protein/healthy fat in the nut butter paired with the fiber in Medjool dates will help you and your kids stay full!
The first ingredient you'll need in this recipe is date paste. Yes- date paste, it's a thing. I PROMISE it's not hard to make. Making Medjool date paste takes less than 5 minutes and can stay fresh in your fridge for up to a month! The options are endless on how to use this yummy, jelly-like, paste!
Once you have the paste made, you can use it in place of jelly in a sandwich or wrap!
This Banana Date Almond Butter Roll Up is perfect for a lunch or enjoy half a roll up for a balanced afternoon snack that will give you sustained energy without a sugar crash.
KISS Tip: Cut the rollup into pinwheels for some bite size fun!
Whether you enjoy as a wrap or as pinwheels, you can feel confident you're packing something healthy and delicious for yourself or the kids! Don't forget to download your free copy of the lunch builder- stick it on your fridge and get your kids involved in packing lunches!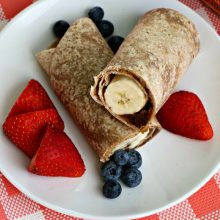 Print Recipe
Banana Date Nut Butter Rollups
Servings:
1
rollup (double or triple as needed)
Ingredients
1

whole wheat tortilla

1

banana

2

Tbsp

Nut Butter

(almond, peanut, whatever your favorite is)

2

Tbsp

Medjool Date Paste
Instructions
Prepare Medjool date paste per above recipe.

Lay tortilla on flat surface and spread nut butter on a 3rd of the tortilla (see above photo).

Spread date paste next to nut butter on middle of tortilla.

Place banana next to the nut butter and date paste and roll from side to side until tight wrap is created.

Press firmly to make sure nut butter and date paste have adhered to the banana and tortilla. Cut in half or pinwheels and serve with veggies and more fruit, if desired!