I'm thrilled to partner with California Giant Berry Farms for this post. As always, all opinions are my own. I had the pleasure of visiting California Giant Berry Farms in June and learn all about the family business and non-GMO strawberries that are never sprayed with pesticides! Their naturally large strawberries are the perfect addition to these kid-friendly bento box lunches!
Ready or not, back to school time is officially here. And chances are, most of us really aren't ready. This time of year always ends up feeling daunting and chaotic. I'd say at least half the families I work with end up needing to reschedule their sessions because everything going on! But just like many other stressful seasons, the #1 key to success is planning ahead. And I'm thrilled to share some helpful tips and lunchbox ideas that kids won't throw away or come back home with a full lunchbox!
Bento boxes are all the rage and rightfully so- they make for the cutest, while still practical containers for a child's lunch. Since we eat with our eyes first, it only makes sense that the more attractive and kid-friendly the lunch, the more likely they are to eat it! And with big juicy strawberries- what's not to like? California Giant strawberries are naturally large because of the perfect climate and soil they grow in, making them eye candy and tasting super sweet!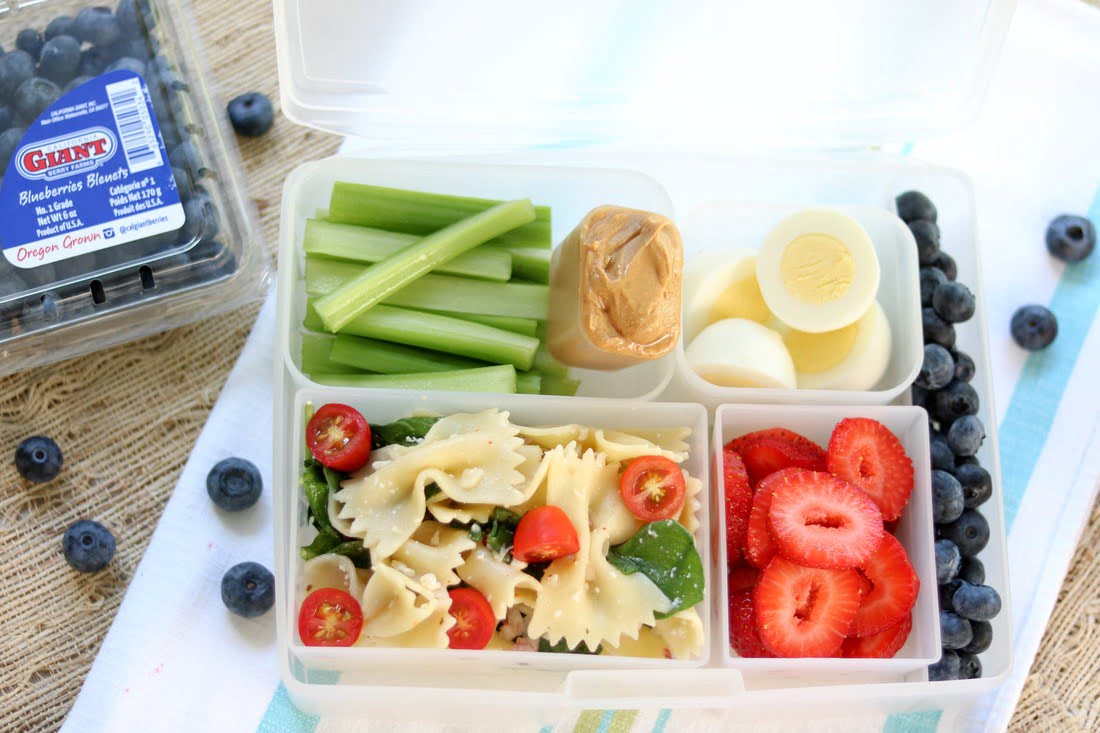 As much as most kids love a PB & J, including unexpected and fun foods like pasta salads, pin wheels or even a fruit salad is a great way to liven up lunch. If your immediate thought is "My kid would never eat ________"- try including ONE new thing with other liked and familiar foods, like strawberries, blueberries or their other favorite fruit. Often times moms (and dads) go all out packing what they think is the coolest and healthiest lunch, but the kiddo is overwhelmed and even fearful of that many new foods. Try just one and consider including a favorite condiment or dipping sauce to entice them further!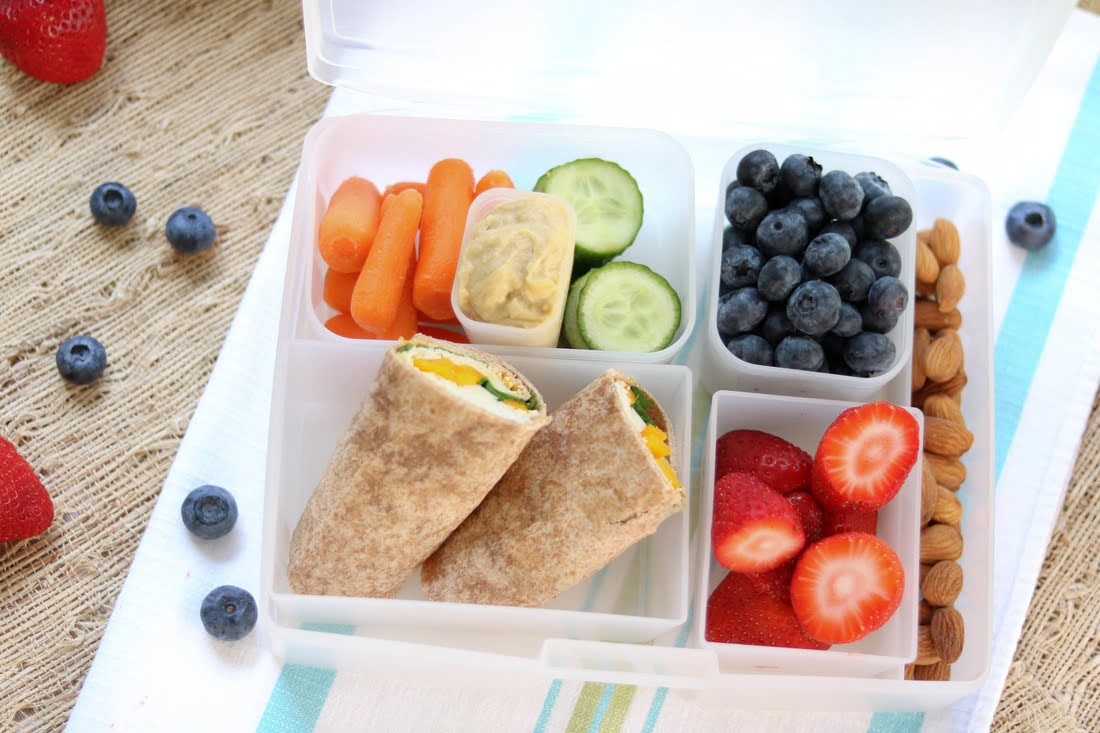 KISS Tip: Try cutting a wrap into pinwheels- little hands love the pinwheels it makes a wrap easier to eat.
KISS Tip: Put a really thin layer of cream cheese on the inside of a wrap- it helps prevent sandwiches or wraps from getting soggy! The most popular KISS in the Kitchen recipe is actually this Viva Fiesta Turkey Wrap where I used some veggie cream cheese and also created pinwheels!
​Don't be afraid to "not pack a main meal". Many parents are concerned if they don't pack a sandwich or "entree", there isn't enough food! That couldn't be farther from the truth and often kids enjoy eating a lunch comprised of "heavier snacks" than a real meal.
Consider these protein-style Bento boxes options:
2 Hard Boiled Eggs + handful nuts + Cheese Stick + Strawberries + Carrots with Ranch
Turkey + cheese rollups + Olives + hummus + edamame + Blueberries
Cheese cubes + Ham cubes + Greek Yogurt + cucumbers + Strawberries + Blueberries
Here are a few other healthy ideas that save you time, money or both!
-Pre-prep breakfast by creating DIY Instant Oatmeal Packets (this saves money plus you can control how much sugar actually goes in there) or pre-portion and freeze individual smoothie baggies. You can find a multitude of recipes on Pinterest for both of these, but get creative and inspired by what your kiddos like!
A great basic recipe is 1 cup strawberries and blueberries + 1/2 banana + 3/4 cup spinach placed in a freezer safe resealable bag and frozen until ready for use. Remove from freezer, place ingredients in a blender and add ~1 cup of your favorite milk. Blend in a high-powered blender until smooth. Add yogurt, tofu or your favorite protein powder for a protein boost!
-Make batches of Snack Bites or bars like these Creamy Cashew Lemon Bites or these Gluten-Free Blueberry Oat Squares.
-Bust out the crockpot and ask your friends to do the same. Instead of just picking out a new recipe, talk to the moms in your circle and have everyone pick a recipe. Not only does that help with meal planning accountability, but you can share the results and figure out what recipes are the easiest and tastiest!
​-Make sheet pan dinners! Almost as popular as Bento boxes, sheet plan meals are recipes that allow you to put everything on the same sheet and it cooks at the same time and temperature! Check out this Southwest Breakfast Sheet Pan Bake I just made last week!
One of my favorite things is hearing feedback from my clients about how their kiddos tried a new food or liked something new in their lunch- would love to hear what new foods your kiddos are trying too! Wishing y'all a safe and blessed back-to-school season! <3 Shannon