I have a handful of dinner recipes that I can either make in my sleep or are requested on the regular by Mr. KISS in the Kitchen. At the top of both of those lists is Blueberry BBQ Salmon. Friends or family are often intrigued when they hear about the recipe, but a little reluctant to get excited about it. That is, until they try it and then ask me for the recipe- every. single. time.
I thought this Lenten season would be a great time to slightly reinvent the recipe with a couple of new ingredients, including strawberries! Plus it's a perfect opportunity to share some fun details about California Giant Berry Farm's Berry Winter Games sweepstakes! Keep reading for more details on this fun sweepstakes and a chance to win one of five $100 REI gift cards!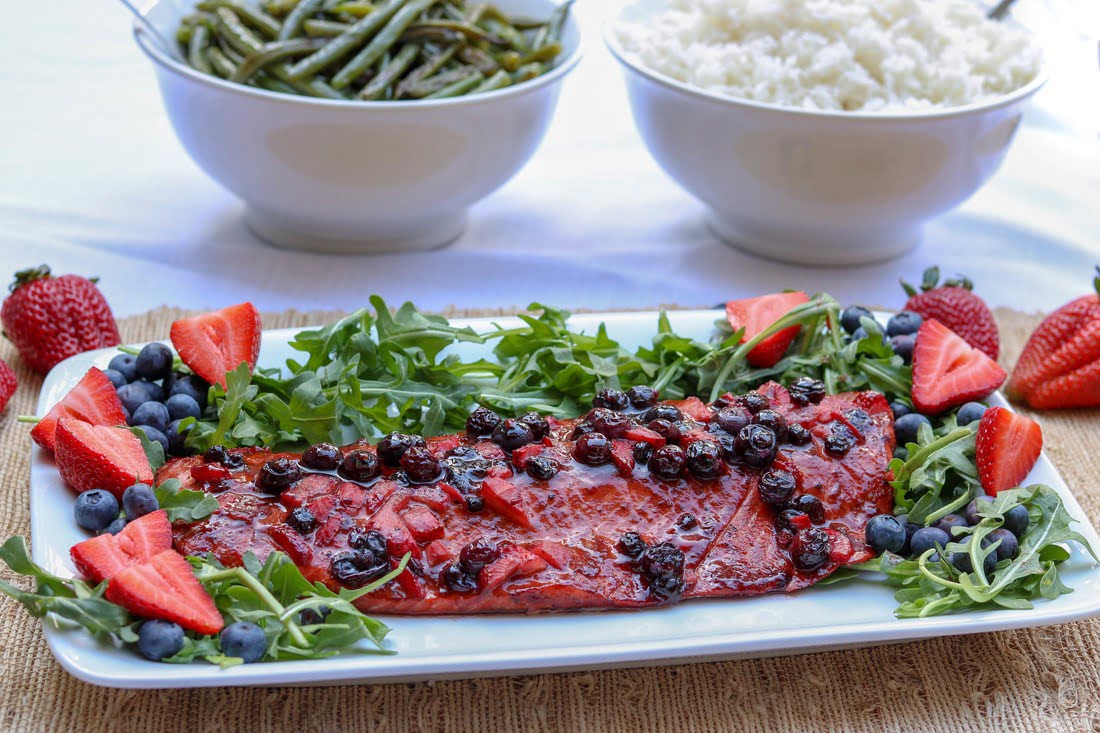 This dish takes less than 30 minutes to prepare and has only 6 ingredients! The sweetness of the blueberries plus the tangy BBQ sauce is a truly magical combination, but adding strawberries to this recipe takes everything to a whole new level. I especially love using California Giant Strawberries because of their naturally large size and sweetness! Their berries are naturally large because of the perfect climate and soil they grow in, making them deliciously sweet and juicy!
Cooking with berries is one of my secret weapons to help keep proteins from getting too dry. Sockeye salmon is leaner and therefore more likely to become dry while cooking, so the berries have their work cut out for them! I tend to use (and recommend) Sockeye salmon because it's slightly higher in protein than other salmon varieties and it's packed with heart healthy omega 3 fatty acids, like DHA, which is especially important for moms-to-be!
Plus, wild caught salmon is also less likely to be contaminated with toxins. Although I've always tried to minimize pesticide and toxin exposures, it's become even more important to me now that I'm pregnant. I feel confident purchasing California Giant Berries because they are a family farm that never sprays their berries with pesticides!
California Giant Berry Farms will always be a company I'm incredibly proud to work with and put my name behind. In addition to just being good people who grow nutritious and beautiful berries, they do a fantastic job of coming up with fun sweepstakes for their fans. Check this out:
---
Just in time for the Olympics, California Giant Berry Farms is hosting their Berry Winter Games sweepstakes! Click here to vote for your favorite berry AND enter to win one of five $100 REI gift cards!
---
KISS Tip: Choose a BBQ sauce with a more smoky flavor profile instead of sweet. Sweet sauces mean extra sugar and there's plenty of natural sweetness from the berries!
Wishing y'all a blessed Lenten season and I'd love to know what you think if you make this recipe!
Print Recipe
Berry BBQ Salmon
Ingredients
1

lb.

Sockeye salmon

1/2

cup

California Giant blueberries

1/2

cup

diced California Giant strawberries

1/2

cup

BBQ sauce

(I like Stubb's BBQ sauce as it only has 4g of sugar per serving and has a great flavor profile!)

1/4

cup

blueberry jelly (reduced-sugar, if possible)

1

Tbsp

white balsamic vinegar

(I've made the recipe with and without the white balsamic vinegar and don't feel it's a make or break ingredient. I enjoy the extra tanginess, but if you don't have this ingredient on hand, I would just omit it!)

Salt & black pepper

Additional berries for garnish
Instructions
Preheat oven to 425° and lightly grease a foil-lined baking sheet. 

Chop strawberries and mix berries with BBQ sauce, jelly and vinegar in a small mixing bowl or 2 cup glass measuring cup.

Place salmon on the greased baking sheet skin side down and lightly salt and pepper the fish. Evenly pour and spread the berry sauce mixture on top of the salmon and bake for about 12 minutes or until a thermometer reads 145°.*

Garnish with additional berries, a veggie and grain of your choice!
Notes
*"

Flaking" salmon with a fork is usually a good way to detect doneness, but that's more challenging with the berry sauce on top.