Here at KISS in the Kitchen, we strive to bring you recipes that are quick, simple, and tasty for you and your family. As the back-to-school season starts and life gets a little more hectic with constantly evolving school, work and extracurricular schedules, we know that finding time to make meals for your family can be challenging. That's why we are so excited to bring you this overnight french toast bake! If you are looking for a breakfast recipe that helps you save time in the kitchen and still get your kiddos out the door on time, this is it!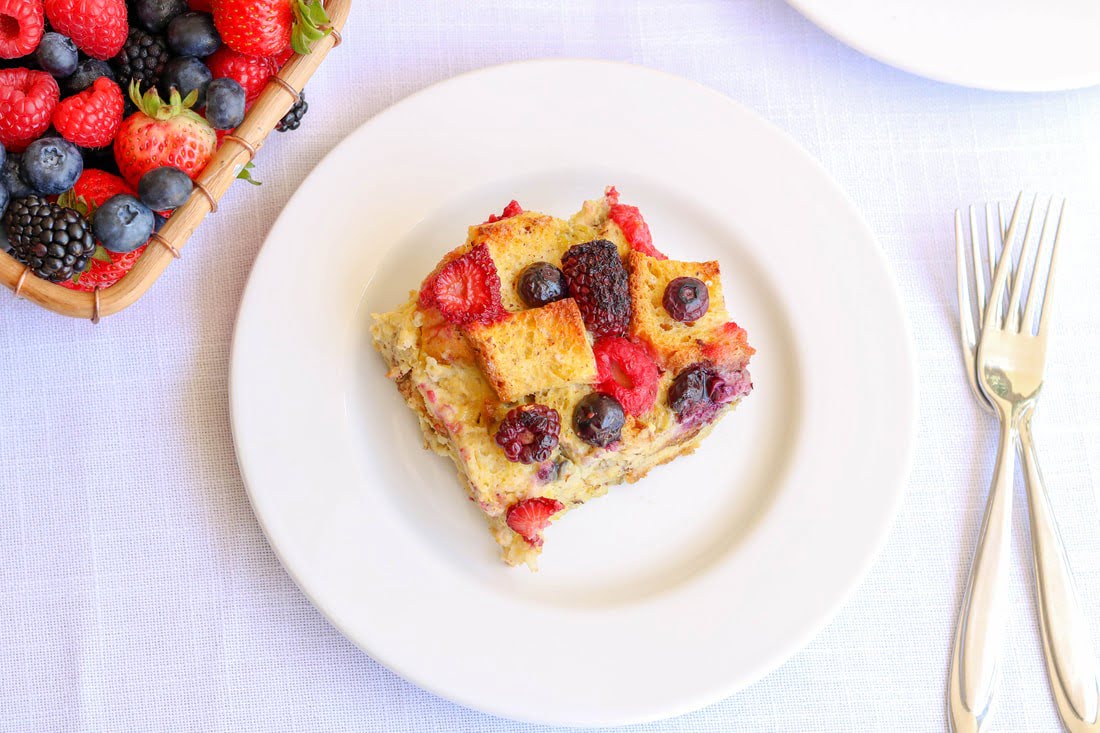 KISS Tip: The key to this recipe is allowing it to sit for as long as possible (goal = overnight) so that it soaks up all of the flavor and yields a more custardy and moist texture. If you are pressed for time, you can let it sit for 2 hours in the refrigerator before popping it in the oven. It will still be good, but this recipe is at it's best when it can soak up all of the french toast goodness overnight. 
I know for me personally, finding ways to save time in the morning is key – especially in the busy back to school season. Since this dish is prepared in its entirety the night before, all you have to do in the morning is pop it in the oven and serve it before everyone rushes out the door. A delicious breakfast without the hard work? I'd consider that a win for everyone!
If you have leftovers, this dish can easily be reheated for subsequent mornings and would even be a great option for a tasty after school snack when your kiddos come home looking for something to eat.
I hope y'all enjoy this dish as much as my family did, and that it makes your back-to-school mornings a little less hectic. If you end up making the recipe, I would love to hear how your family liked it!
Print Recipe
KISS Mixed Berry Overnight French Toast Bake
Ingredients
1

15 oz loaf

gluten-free bread, cut into 1-inch cubes

(I used Canyon Bakehouse Honey Oat)

2

cups

mixed berries

(I used 1/2 cup each of strawberries, blackberries, raspberries and blueberries)

8

large

eggs

2

cups

almond milk

1/4

cup

maple syrup

1

Tbsp

pure vanilla or vanilla extract

1/4

tsp

ground nutmeg

3/4

tsp

ground cinnamon

1/4

tsp

salt
Instructions
Coat a 9×13-inch baking dish with nonstick spray. Arrange bread cubes evenly on the bottom of the dish, followed by the berries. Set aside.

In a large mixing bowl, whisk together the eggs, almond milk, maple syrup, vanilla extract, nutmeg, cinnamon, and salt. Pour over the bread. Cover the dish with foil or plastic wrap and place in the refrigerator for at least 2 hours or overnight.*

When ready to bake, preheat oven to 350° F. Bake, uncovered, for 50 to 55 minutes or until lightly golden brown and where there isn't any remaining liquid in the center of the dish. Serve warm and enjoy often!
Notes
* The longer the dish sets (goal = overnight), the more custardy and moist it is! I've baked this many times with just letting it soak 2 hours and it's good, but the best version is definitely letting it soak overnight!